By Jeff & Sherri Brown
Photos by Rolf Hill
The 14th Annual Super Nationals were held June 16 -18 at New Castle Motorsports complex.  A record crowd of 181 entries packed the pits with VKA members from Oregon and California to New York, Canada and Florida. Thursday was open practice from 10-5 with plenty of sunshine, warm temps with a strong breeze.  The evening welcome party included a special spaghetti dinner provided by Bill Jackson in the air-conditioned restaurant.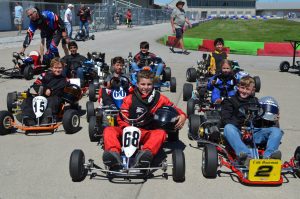 Friday arrived with more sunshine and warm temperatures. America's Karting World Champion Lake Speed kicked off the drivers meeting with a strong message of safety and a prayer that set the mood for a great day of karting. The 1st round of 11 heat races were run and the competition was strong with many new drivers.  and the, they were The two largest classes were Yamaha Limited with 27 entries and Yamaha Piston Port had 18 entries. The Juniors had a record number of 10 entries.   
Following the heats,  Romero Llamas and his team of judges conducted the kart show.  There was a wide range of karts on display. Awards were given out followed by the Banquet inside.   Mark Dismore's daughter Estina and her team of pros cooked up some fried chicken and all the "fixens" for 150 people. Several members received special recognition including Tom Kelly, Jim Donavan, Romero Llamas.  The hall of fame members Sonny Gerber, Lynn Haddock, Bill McCornack, Mark Dismore , Bill Jackson and I gathered at the podium to induct the 2022 members .  The new inductees were Dean Kossaras , Paul Booth, Steve Welte and Louie Figone.   
Saturday the second and third heats were run in 70-degree near perfect weather.   Awards were passed out and folks were on the road home at 4pm.  Thanks to all that attended, I hope to see all of you next year!    
God bless you all and God bless the USA!  Jeff and Sherri