By James Kammueller
Photos by Lori Biehl, Christy Miller, Don Roll and James Kammueller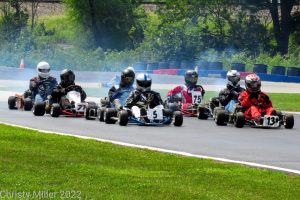 It does get hot and humid in the Midwest and that was the case at the West Quincy TNT Kartway during the August 4 through 6, 2022 VKA Event with highs in the upper 80's to low 90's, few clouds and no rain during the entire 3-day event.  There were 67 karts in attendance, and we also had a great turnout for the kart show that featured many beautiful karts.  In all, 22 demonstration event classes were represented. Promoter Jeff Miles and crew, that included family members,  did a great job of keeping the event on schedule and handling the numerous duties required both on scene, and behind the scene, at VKA events. 
Thursday was a practice day.  Friday featured morning practice, the driver's meeting, tributes to two well-known former drivers who have left us, one heat event, the kart show and some great food including barbecued chicken wings, fried catfish and sunfish, baked beans, coleslaw and watermelon.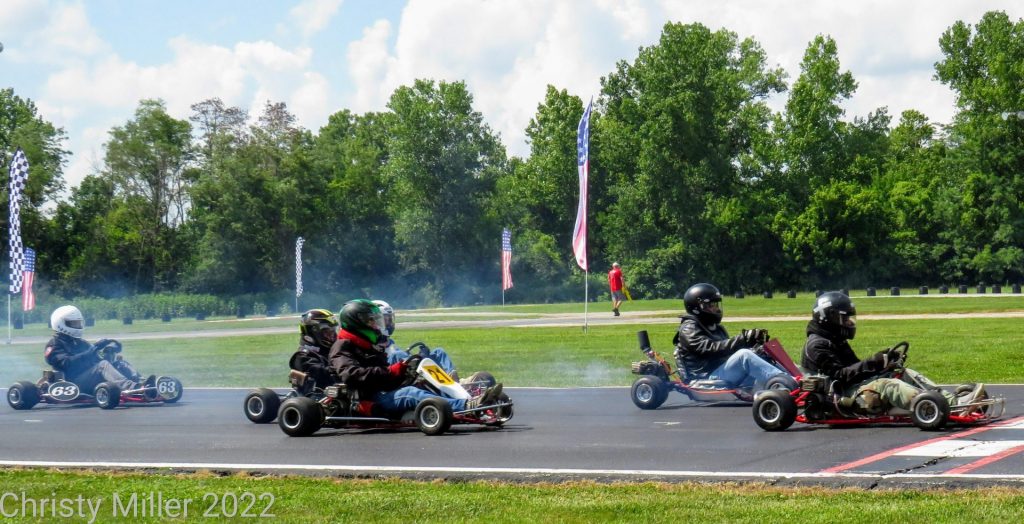 The first tribute was made by Guy Roberts.  Guy and many of his family members were in attendance to pay tribute to Guy's father-in-law Bill Bickers who was the first of four generations of kart racers in the family.  The family shared a display of trophies and memorabilia from Bill's career.  In 1957 Bill got into karting while living near Chicago.  By 1959 Bill had relocated to near Urbana, Illinois and had become a Go Kart 800 dealer and McCulloch engine builder.  Bill was an accomplished driver who competed in a number of national championship race events.  He took great pride in his engine building as his engines had, at times, beaten more notable builders at major race events. He was one of four people who brought karting to central Illinois by starting a small track called Bolling Green near Urbana.  Bill took great pride in watching his grandsons and great grandson also enjoy success in karting before his passing in June of this year.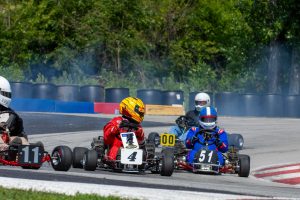 Next, TNT owner Terry Traeder paid tribute to race driver Rick Gifford who drove not only karts but also competed in various types of auto racing including late model stock cars, sprint cars and road racing.  Throughout the 60's and 70's Rick won thirteen U.S Go Kart National Championships and in 1979 won the coveted Professional Karting Association Race in Medford, Oregon.  After that Rick shifted to auto racing.  He was ranked as the 32nd best all time driver in karting.
VKA driver Matt Morgeson showed his vocal talents by singing our National Anthem.  Matt Krechel then drove a final tribute lap to Mr. Gifford, to the Garth Brooks song "The Dance".
Saturday activities stayed on schedule with morning practice until 10:30 AM followed by heats 2 and 3 and the awards.