By James Kammueller
Event Photos by Christy Miller
Show Photos by James Kammueller
We had beautiful weather for this event on Thursday and Friday with blue skies and temperatures in the upper 70's. The weather became somewhat dicey on Saturday with intermittent light rainfall that caused some delay in completing the third heat event. There were 67 entries, and we also had a great turnout for the kart show that featured many beautiful karts, and two beautifully restored mini bikes.In all, 14 demonstration event classes were represented. We had some great food as well for lunch on Friday and Saturday with Jim Donovan grilling food provided by Jack and Sheree of Hi-Jack Racing. The menu included brats, hot dogs, burgers, baked beans, potato salad, chips and condiments.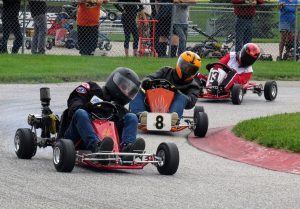 Thursday was a practice day. Friday included morning practice, lunch, the driver's meeting and the first two heat events beginning at 2 PM. Saturday featured the 8 AM kart show that ended around 9:30 AM as light rain began. This rain ended about 30 minutes later followed by a practice session featuring the braver drivers helping to dry off the track. The first two feature events were then run before more light rain delayed the remainder of the feature for about an hour. More light rain began within minutes after the feature was completed. Lunch was served and the awards were then presented around 1:30 PM inside the track office as light rain continued.
As always, a big thank you to promoter Scott Klingler, and the Nielson family, for their work in promoting and making this fine facility available to the VKA for what is always a fun event. Scott has been a big promoter of the 49 classes -especially stock Group B. At this event Scott divided Group B into light and heavy groups with the winners each receiving5 gallons of VP M 1 Methanol. Dean Didion won the heavy group and Rick Magnuson won in the light. As has been past practice, Scott also raffled off a Max Torque clutch to the Drivers in Class 12 -Sportsman Sidewinder. This year's winner was Vico Prelogar.