By John Copeland
Photos by Gerald Conrad & Denny Scott
Whiteland Raceway Park, just south of Indianapolis, proudly proclaims that it is the oldest continuously operating kart track in the United States. Since 1958 it has grown and evolved to meet the changing karting scene. And, in 2023, it is poised for another major expansion – more on that later.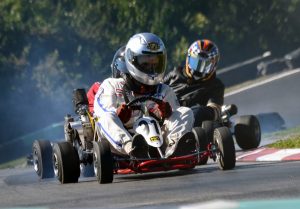 But for three bright, sunny days in late September VKA members enjoyed what has become one of the "must–attend" events on the VKA calendar. Thursday was a busy day of moving in, unloading, and practice. Whiteland owners Sarah Fisher and Andy O'Gara generously furnished pizza for everyone for lunch on Thursday.
Friday's schedule included more practice, 2 heats of racing, the Kart Show, and a delicious BBQ dinner prepared by Jim Donovan of Max-Torq Clutches. Participation in the Kart Show was lighter than last year, but the quality of the entries was outstanding. John Stults won the People's Choice with his restored 1961 Hornet powered by a Poulan S-85. Again this year Whiteland hosted the biggest 50/50 payout of the year with TWO separate $500 payouts.

A new feature this year was a silent auction featuring some outstanding items of vintage significance. In addition to two T-Shirts autographed by Lake Speed and Lynn Haddock, there was a McCulloch engine table lamp made by Hall-of-Famer Bobby Lee, and a straw hat worn by the Godfather of karting, Duffy Livingston. The winners of the silent auction were all happy with their treasures and all the proceeds will go to support the VKA Junior Class support initiative.
Friday's racing saw several large classes with plenty of close racing. The Yamaha Limited class and the Yamaha/Piston Port class each boasted 11 entries with plenty of good battles throughout both fields.
Saturday was another beautiful fall day and, after a short practice session, the 3rd and final set of heats got underway.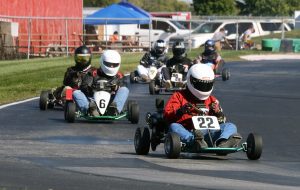 After trophies were awarded it was time for everyone to pack up and head for home. It was a perfect way to wrap up the Midwest Vintage season and everyone is excited to start getting ready for next year.
The staff at Whiteland Raceway Park is looking forward to welcoming the VKA back next season and to showing off their new and improved facility. They recently acquired an additional 35 acres immediately north of the existing track and have already begun preparations for a significant expansion of the racing surface. The existing track will be ground and resurfaced, nine new buildings will be constructed, including more garages, restrooms and showers. The pit/parking areas will be dramatically expanded to include several full hook-up motorhome areas. Racers will have expanded options for multiple track configurations.  The track expansion will easily accommodate the fastest classes and Vintage C-Opens will find plenty of room to flex their muscles.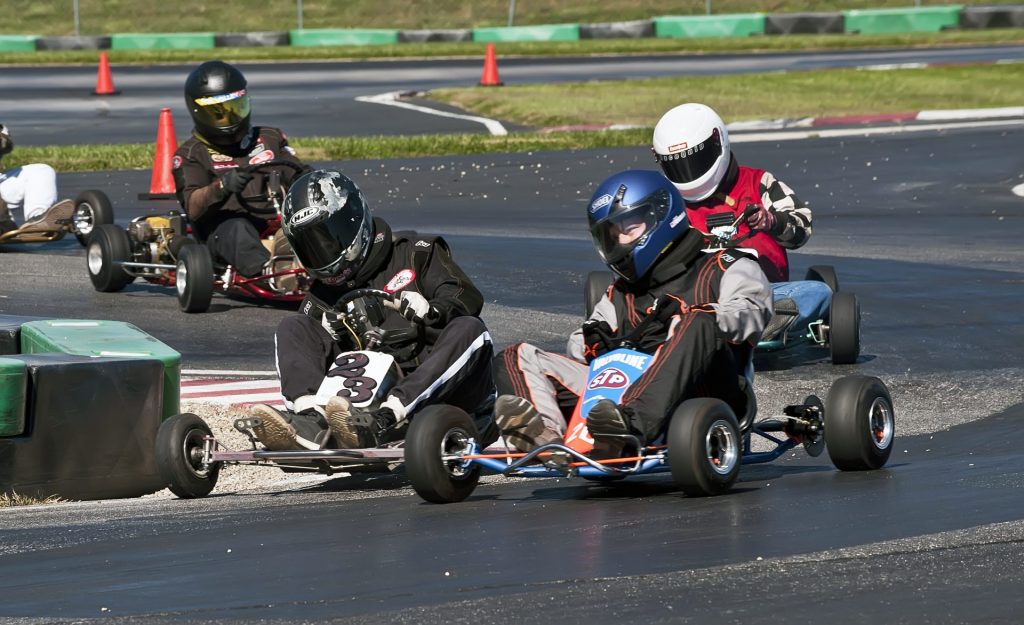 Once the pit layout is finalized, we will reach out to every Vintage participant to offer reserved pit spots. Whiteland is committed to becoming the premier karting facility in the country and the VKA is fortunate to be a welcome part of their schedule. Don't miss out n the opportunity to join us next fall for the 2023 Fall Classic. Mark your calendars!