Text and Photos by John Copeland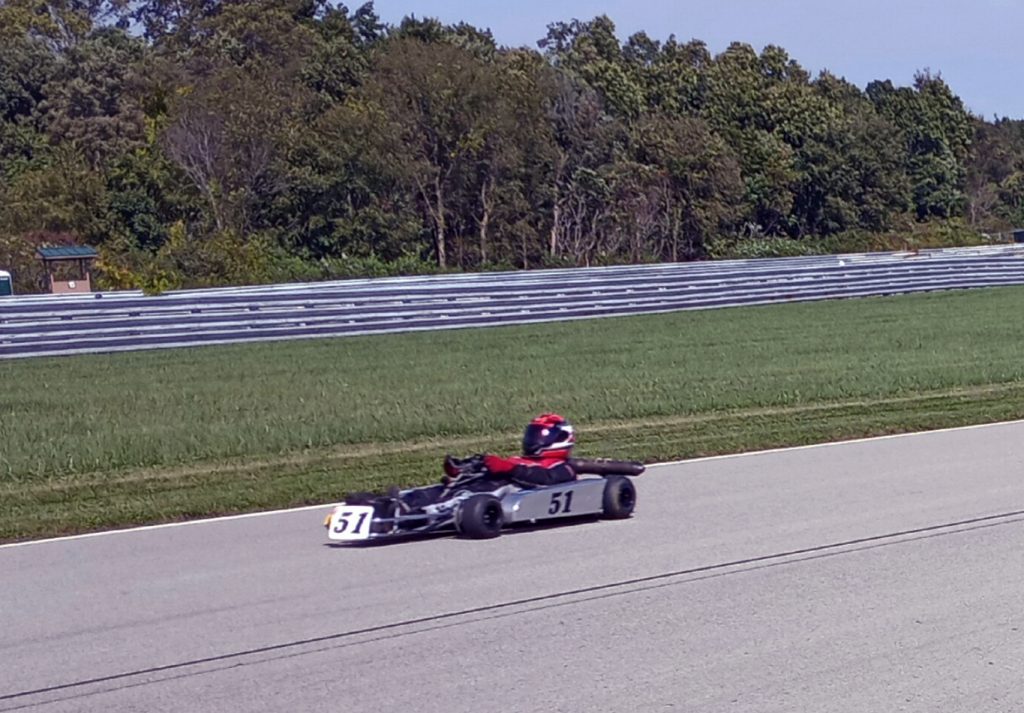 Woodbridge Kart Club Vintage Coordinator Arthur McKinney took advantage of the expected large crowd of enduro racers at September's AKRA/Dart Kart enduro event at Pittsburgh Motorsports Complex to showcase Vintage Enduros in a whole new way. The first ever Vintage Enduro Celebration staged a special 20 minute race at the end of Friday's practice sessions at the breathtaking 2.78 mile race course. A total of 22 Vintage Enduros in 3 divisions took the green flag for a special 20-minute exhibition event. Notably, Yamaha Enduro hot-shoes Patrick Olsen and Adam Trumbley came over from the "modern" karting world to try their hands in more "time-honored" machines.
But it was Fred Stoll who showed these young guns the quick way around, leading every lap with his Vintage Open machine. Surprisingly, the next fastest 6 places all went to karts in the vintage Piston Port division, led by Olsen, followed by Art McKinney, Trumbley, and John Copeland. The closest race of the day was between Jerry Bowgren and Dennis Griffith who finished an astonishing 0.189 seconds apart after 20 minutes in the battle for 5th in Vintage Piston Port.
In Vintage Open, Stoll was followed to the finish by Greg Hartley, Phil Reuter, Chuck Morgan and John Konkle.
A special class titled Vintage Exhibition was created for karts that did not fit into the regular Vintage classes. Jeremy Baldi was the only entry in that class and, unfortunately, only finished a single lap.
All 22 entries were happy to be able to "strut their stuff" in front of the crowd of 800+ participants at Pittsburgh and organizers hope that the Vintage Enduro Celebration will become an annual fall event.