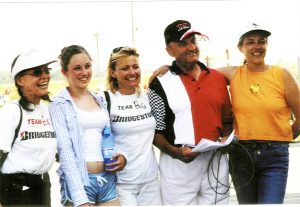 Most of the karting universe knows Faye's racing history and prowess at running a karting business. Faye's driving career spanned the late 1950,s and the 60's when karting was growing and new innovations came hard and fast. She and husband Tom would create Bug, and then Team Bug, and proceed to drive headlong into the history books of kart racing.
I began racing karts in 1985. While I had seen Faye in the pits from time to time, I didn't really formally meet Faye until my first IKF Sprint Grandnationals in 1987 held at Garnett, Kansas, where I won my first Duffy. I began running a Bug the following year and my husband Rick would convert to Bug shortly thereafter. Rick and Faye would spend vast amounts of time discussing chassis and tires. Faye's Husband "Big" Tom Pierson and I would become close friends too, and the four of us would remain close buds, and frequently meet up to catch up.
Rick and I stopped racing in the late 1990's to early 2000's, but never lost touch with Tom and Faye. After Tom's passing, I would drive down for a night or weekend just to spend time with Faye. She was heartbroken and felt a little lost without Tom. But Faye threw herself into the business, with a whole lot of support from sons Tommy and Jon, she moved ever forward, as was her nature.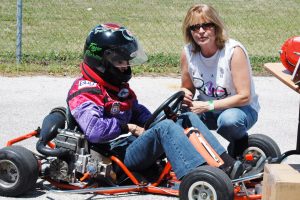 A couple years later Faye called me one afternoon to tell me that she had been asked to attend a vintage karting event in Quincy, Illinois. She had promised Gus Traeder that she would attend, and Faye then explained that IKF Director Deb Harper had set up their travel plans. Deb was going to attend with Faye and write articles for interested karting publications. But, Deb had something come up and could no longer make the trip. It was just a couple of weeks away, so Faye asked if I would go with her, and to please bring my driving gear because she really didn't know if she could do more than one heat race (Quincy in the heat you know…). She wanted me to be her backup driver; which would turn out to be the VERY LAST THING Faye needed.
And what an adventure it turned out to be – Faye would soon name us the "Thelma & Louise" of vintage karting. We had the absolute time of our lives together. We couldn't attend an event in Quincy without stopping to put our feet in the mighty Mississippi River, which is how we discovered Hannibal, MO. Over the years it became ritual, after which we would eat at the amazing catfish house in Old Town.
On some of those trips to Quincy together, and the many other tracks around the country, Faye and I would get so tickled and begin laughing so very hard we had to pull over. Our friendship grew immeasurably during these times.
So after that one phone call, that one trip, I watched Faye's glow come back as she was once again in her element. She was hooked, and I can tell you that she loved vintage karting most dearly. She cherished all of the incredible new memories through her time in the Vintage Karting Association and being at the tracks with all of you.
Faye always carried a notepad to each event so she could keep up with those she met along the way. After deciphering her notes and reminiscing about each event, we talked about all of y'all. Way, way too much to tell, and some things…I will never divulge – but it makes me giggle to this day.
Before vintage, we were friends who enjoyed and respected each other. But after our years of running amok together, the bond went well beyond friendship. I sincerely thank all of you for making our time with you so special. As her son Jon told me recently "What a run you two had together" and it's so very true.
Obviously death is inevitable, but Faye was a super hero to me. Faye "Lady Bug" Pierson was truly a lady, she was poised and practical, a bit daring, forever playful, smart, sometimes downright sassy, she was so dear to all, she was my friend.