By Bob Barthelemy
Photos by Tony Cassata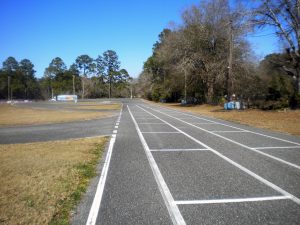 Although the temperature was in the mid 30's Thursday morning, the late morning and afternoon saw temps. in the60's and made for a beautiful day of practice. After safety tech inspection, we opened the track for practice around 10 am. With all single engine karts then duel engine kart practice. After lunch (the Mother Truckin Pizza food truck served some delicious subs and pizza) we provided open practice till 5:00 pm. with the grid steward controlling the amount of karts on the trackat a time.
The forecast for Friday showed rain so we got an early start with practice open from 8:30-9:30 am. We posted the starting line-ups and held a quick drivers meeting at 9:45. The first group to enter the track for heat #1 at 10:15 was the Sportsman Rear accompanied by a Karman Jobe (junior) and Nick Wiel in the straight axle S/W. Two more groups were able to run heat # 1 prior to the rain setting in till noon. About a two hour process of drying the track followed lunch and by 2:30 the sportsman S/W and 4 cycle stock group completed their first heat. Two more groups completed heat #1 before more rain came to end the on track activities for the day.
Saturday morning a steady rain was drenching the facility at 103rd St. Jacksonville. After talking with the people at the track, and a few already packing up to leave, we decided to officially call the Saturday activity as a rain-out. The few people that were interested in participating in the kart show did not even want to get their karts out in the rain. We presented awards based on first heat finishing order (12 classes) and by order of registration (5 classes). Karman Jobe assisted us by drawing Todd Horton's name as winner of the 50/50 raffle. Todd and the VKA were presented $155.00 each from the proceeds of the raffle. Thank you to Jim Hindery, NFKC President, and the entire NFKC & GSKA team for a well-run event! Thank you to all the Vintage Karters (58 competition plus 2 practice only entries)for participating at this event. Come join us at Barnesville March 25ththru 27th where we hope for better weather conditions.