First, let me start by stating that I'm no 2-stroke carburetor expert. However, I've been forced to learn certain things about how to setup and service my carbs as part of my race prep. One of those procedures is checking and setting pop-off pressure — the pressure required to unseat the inlet needle and seat, or in some cases, the carburetor's gross jet. What this affects is the carburetor's calibration (rich or lean) especially in the lower rpm ranges. There are as many target pop-off pressure settings as there are opinions and engine combinations, but the generally accepted settings are 8.5-10.5psi for gas and 5-7.5psi for methanol. You can't go wrong picking a mid-point in those ranges as a starting point.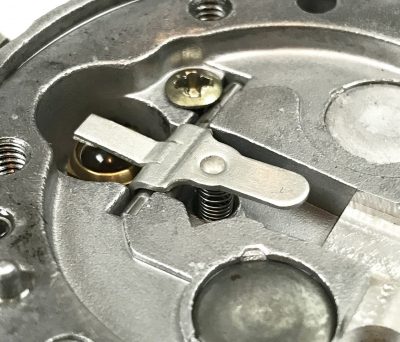 There are a couple of other factors that affect low-rpm mixture control. The most important is the fulcrum lever height. A good starting point is with the top of the arm adjusted (bent) so that it is flush with the adjacent "flats" on the carburetor. If you bend the arm up, you richen the mixture. Typical settings for raised fulcrum arms (at least on my carbs), is .030" for methanol carbs and .060" for my gas carbs. Another consideration is the type of inlet valve, needle and seat or gross jet. My Buller methanol carbs run dual-ball gross jets that flow more fuel (even at smaller openings) than needles and seats. My gas carbs use needles and seats that run cleaner on the bottom end and seem to give snappier response.
The way you check pop-off pressure on a typical Mikuni or Tillotson pumper carburetor is to remove the pump "stack" breaking the carb down to the carb body with it's inlet valve, fulcrum arm and spring. Next, you pour some type of liquid in the inlet valve well. Kermit Buller recommends and sets his carbs up with Marvel Mystery oil, but gas, solvent, WD40 or most lubricants will work. Then you take your pop-off gauge and insert it in the passage that leads to the chamber below the inlet valve (see photo), and slowly pump pressure into this chamber. Keep watching the fluid around the inlet valve for bubbles if the gauge doesn't seem to be holding pressure as you pump it up. Dirt or a bad gasket or surface under the inlet valve often leads to leaking here (you will see bubbles around the inlet valve).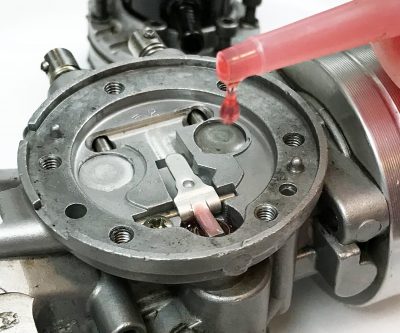 When you get to the set pop-off pressure the inlet valve will open releasing pressure (usually spraying oil all over). If you are using a needle and seat, it should be an audible "pop", initial pressure release and then the gauge stabilizing at a "holding" pressure. If you are using a gross jet, the pressure will simply release at the pop-off number and then stabilize at a lower number. As Buller's info sheets describe it, the gross jet acts more like a fuel regulator.
To change pop-off pressure you need to adjust that very tiny coil spring under the fulcrum arm. It's good to have a large supply of pop-off springs as they have a nasty habit of launching, never to be found. For a given spring wire diameter etc., the length determines the pop-off pressure. I purchase my springs from Comet Kart Sales, but they are available from others such as E.C. Birt. As they come from Comet they are approximately .750"-long and produce a needle and seat pressure of 9.5psi in a Mikuni carb. That is nearly ideal for many gas foreign motors. By compressing the spring (squeezing it several times to coil bind between my fingers) to .570", the result was 6.5psi in my gross jet methanol carb. It's strictly a time-consuming trial and error operation. However, after you establish the correct length spring for your application, you can usually hit the pop-off number in just a couple of tries.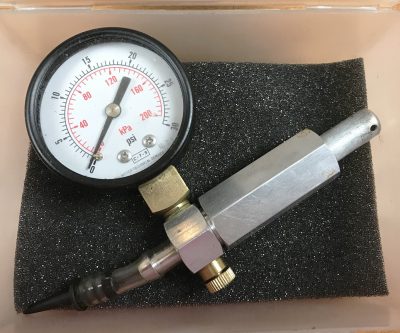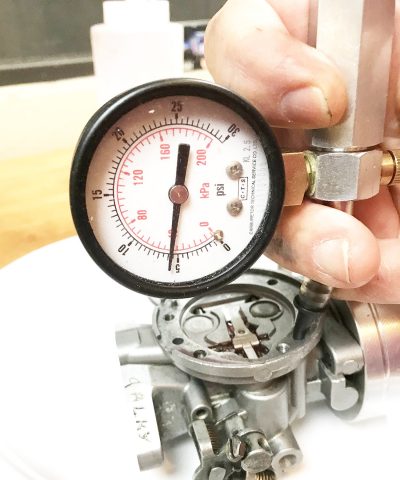 The photos here (iPhone7 camera) show me checking the pop-off pressure on an eBay carburetor I purchased (atomized methanol Mikuni) and also setting the pop-off pressure on an existing Buller atomized Mikuni I have been racing with that was too lean causing engine damage. It's not a bad idea to check your carburetor's pop-off pressure whenever you are installing a fresh diaphragm kit.