The World Karting Association held the 2021 Karting Challenge at Charlotte Motor Speedway in Concord, NC on April 16-18, 2021.  It was a multiple event with road racing on the CMS "Roval", modern sprint racing on the sprint kart track in the infield near turn 3 of the main oval, and dirt sprint racing on the dirt track right next to the Speedway.  Road racers moved in on Friday morning April 16th.  The road course was rented to Mustang racers on Friday morning so we were not able to get on the track until the afternoon.  WKA changed the configuration of the road course adding a 180-degree loop at the end of the road course before going onto the oval.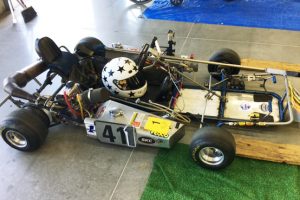 The track was very bumpy, especially between turns 3 and 4 of the oval and as you entered the road course from the oval.  And when I say very bumpy, I mean very bumpy.  Many racers said that their heads were jarred so badly in turns 3 and 4 of the oval that they had trouble seeing the turn-in for the front stretch chicane.  The track roughness also took its toll on equipment since our racing karts don't have suspension.  All that jarring will eventually break something. 
There were 3 Vintage Twins at the track on Friday.  Rick Gilmore just got his engine mounts for his twin on Thursday afternoon so he didn't have time to get the engines set-up on his C-Open enduro kart.  He worked on it off and on during the day on Friday.  Ron Caldwell had added a fuel tank to his C-Open sprint kart to have enough fuel capacity for the road race.  Unfortunately Ron locked up an engine during a practice.  Undaunted, he installed a spare engine and went back out for another practice session.  However luck was not with Ron this day.  His new tank cracked so he packed it up and went home.  The 3rd Vintage Twin was Tom Tretow who came all the way from Wisconsin.  Tom's Invader twin was set-up with 2 TKM 135cc reed valve engines.  During practice on Friday, Tom put a hole through the top of the piston in one of his engines.  Unable to repair the engine at the track, Tom removed the 135cc TKMs and installed a pair of 100cc PCR reed valve engines and started dialing them in.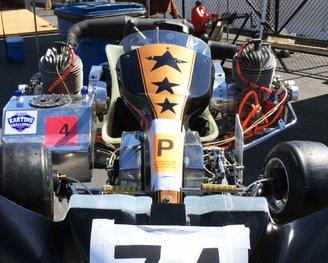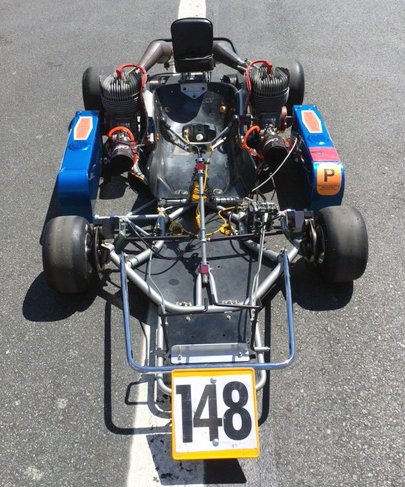 There were 3 Vintage Piston Port/USA karts, all set-up with McCulloch MC-101s.  As far as I know they did not have any significant issues during practice. 
There were 2 Vintage Open karts, Rick Gilmore's Margay with a K-299 B-Bomb and my Invader with a K-299 B-Bomb.  Rick seized a piston in practice on Friday and spent the rest of the afternoon swapping engines.  I went out for the 1st practice to familiarize myself with the new track configuration and to check my clutch and carb settings.  My clutch was over slipping and when I came in I noticed that the outboard clutch oil seal had blown out.  I set to work removing the rear axle to remove the axle clutch.  I got a replacement seal, installed it, turned out the clutch adjusters to reduce clutch slip, and refilled the clutch with new oil.  Then I re-assembled the rear axle and went out for another practice session.  This time the clutch was still over slipping but just a little bit so I turned out the clutch adjusters a little bit more to reduce clutch slip.  During the next practice session, the clutch was right where I wanted it to slip so I concentrated on getting the carbs dialed in. 
After a couple of short practice sessions on Saturday morning I had the engine, carbs, and clutch just where I wanted them to be.  The kart handled well and the brakes performed well.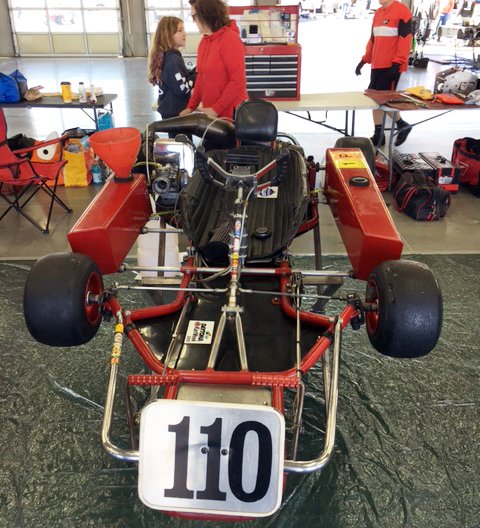 Race #3 on Saturday included the Vintage Twin 1 class.  Rick Gilmore was still working on repairing the damage to this Vintage Open kart so he didn't get his Vintage Twin ready for the race.  Consequently Tom Tretow was the only Vintage Twin to make the grid.  Tom ran very well and showed how quick a good Vintage Twin kart can run. 
Race #6 on Saturday included both the Vintage Open 1 class and the Vintage Piston Port/USA 1 class.  Rick Gilmore and I were gridded for the Vintage Open 1 race and Dennis Griffith, Bill Anderson, and Bill Johnson were gridded for the Vintage Piston Port/USA 1 class. 
I got a great start and took the lead of the Vintage Open 1 race right off the starting grid.  I led every lap and won the race.  There were 7 classes running together but there were no traffic problems.  I found out after the race that Rick Gilmore stripped a belt coming off the starting grid so he did not even complete one lap.  Dennis Griffith running the Vintage Piston Port/USA 1 class with his Van-K kart and a MC-101 had a great race with me.  I was slow in the infield road course and Dennis caught and passed me there just about every lap.  However I would catch him on the oval and pass him before we entered the front stretch chicane so I led every lap.  At about 1/3 race distance, my temperature indication failed due to a broken CHT thermocouple lead.  At about half race distance, my slippy pipe cable broke so I lost some top end speed.  With only a couple of minutes left in the vintage races, the red flag came out due to an accident in one of the other classes so our race ended just a little early.  Dennis and I both completed 11 laps and our best lap times were less than half a second apart.  We were essentially glued together for the entire race.  It was fun.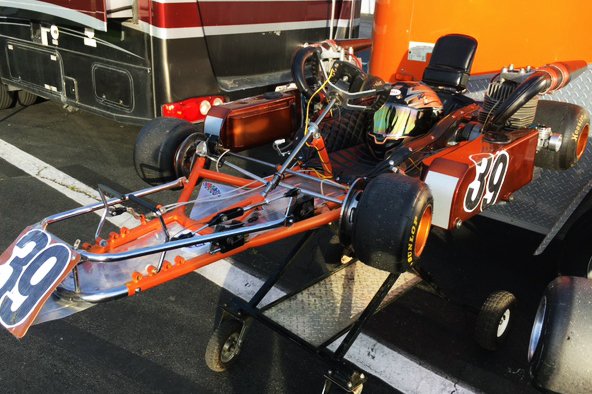 In the Vintage Piston Port/USA 1 class, Dennis Griffith was quite a bit quicker than both Bill Anderson and Bill Johnson.  Dennis led that class from start to finish.  Close to the end of the race, Bill Anderson suffered a broken rod in his MC-101.  He still completed 10 laps.  On lap 8 Bill Johnson's GoPro camera started to fall over so he reached over to get it but the bumpy track caused his elbow to hit his flip up tank cap and it came open.  He couldn't close it on the track so he came into the pits ending his race after 7 laps.  Bill also felt he may have hurt his engine in the race.
I did not run practice on Sunday morning since I needed to correct the issues from yesterday's race.  I installed a new CHT thermocouple lead and installed a new slippy pipe cable.  Then I did my standard pre-race preparations. 
On Sunday, race #2 featured the Vintage Open 2 class and the Vintage Piston Port/USA 2 class.  I was the only kart in Vintage Open 2 since Rick Gilmore worked on his Vintage Twin kart to get it ready for the Vintage Twin race later that day.  I got a great start and came off the grid like a rocket ship.  The engine ran well, the clutch worked well, and the kart handled well.  There were 7 classes running together but there were no traffic problems.  Only 6 minutes into the race, my new CHT lead broke and then the MyChron4 gauge quit working entirely.  I richened the rear carb HS needle just a little bit and ran the rest of the race without any gauge info.  Now that's real "vintage".  My fastest lap time of the Vintage Open 2 race was 2:01.545 so I was almost 5 seconds faster than I was on Saturday.  I ran the entire race without any issues except for the gauge failure and completed 14 laps. 
Bill Anderson was the only entry in Vintage Piston Port/USA 2.  After damaging his MC-101 on Saturday, Bill ran a 100cc McCulloch in the Sunday race.  Unfortunately as he came off turn 4 of the oval his engine suffered multiple engine failures.  Bill quickly turned onto pit road preventing further damage to his engine.  Bill completed 5 laps before dropping out.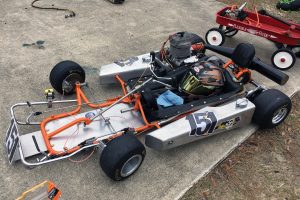 Sunday's race #4 featured the Vintage Twin 2 class.  Unfortunately Rick Gilmore was unable to sort out the issues on his vintage twin kart and did not make the grid for the race.  Tom Tretow ran well again and cruised to an uncontested win. 
I had decided about a month before the race that this would be my final enduro road race.  I'm 74 years old and it has been getting more physically challenging for me to do the enduro races.  However I wanted to go out on a good performance and I am happy that I was able to do that.  To me a race is successful if my equipment runs well, I drive well, and I finish the race.  I will still participate in vintage sprint races but this was my "curtain call" for enduro kart racing.  I have had a great time racing enduro karts for many years and have been very successful at it.  It's much better to go out on top than to stay too long in a sport.  I will miss it but I have had a very good career road racing karts and I have no regrets about stopping now.