By John Copeland
Photos & Captions By Dick Charest
The first weekend in March can be unpredictable weather-wise, in the southeast, but 2 months after the final checkered flag of the year at Daytona, the WKA Vega Tire Road Racing Series, presented by Summit Racing Equipment, descended on Roebling Road Race Course near Savannah, Georgia.
Roebling Road couldn't be in a more iconic setting, a 2.02 mile, 9-turn road course nestled beneath towering oak trees draped with Spanish moss.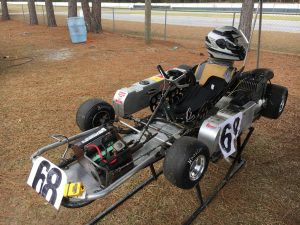 Saturday's Vintage Piston Port class featured 4 entries contesting the 30 minute race. Arthur McKenny was the class of the field, lapping 4 seconds faster than his nearest competitor. All 4 racers made it to the checkered flag with McKenny taking the win over Christopher Foskey, followed by William Anderson and Scotti Orr.
In Saturday's Vintage Open class, Tony Ellison continued his winning ways in a tightly fought battle with Dick Charest and Terence Armstrong. Piston Port winner Arthur McKenny was in the hunt as well before retiring after 5 laps. Christopher Foskey dropped out after 1 lap and Rick Gilmore lasted until lap 11 before retiring. At the flag it was Ellison, followed by Armstrong besting Charest by less than half a second to take 2nd.
Sunday's Piston Port race saw the same 4 karts on the grid, but McKenny's luck ran out after only 1 lap and he retired. William Anderson took this one by a lap over Christopher Foskey, with Scotti Orr in 3rd.
The last Vintage class of the weekend was Sunday's Vintage Open and only 3 competitors made it to the grid. Once again is was all Tony Ellison and he ripped off laps 1 ½ seconds faster than his winning pace on Saturday. Unfortunately neither of his fellow Vintage racers could hang on as Dick Charest retired after 2 laps and Terence Armstrong was unable to complete the 1st lap. Ellison cruised to an uncontested win.
Next up on the Vintage enduro calendar is the Shenandoah Circuit at Summit Point Raceway on April 17th & 18th, hosted by the Woodbridge Kart Club. That same weekend WKA will welcome Vintage enduro karters to the "Roval" at Charlotte Motor Speedway. Competing race dates at tracks so geographically close is never a good thing, but hopefully racers will pick their favorite track and support these events.