By John Copeland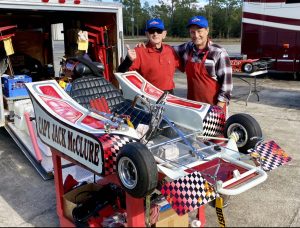 A small, but dedicated group of Vintage Enduro Karters made the annual winter trip to Daytona to enjoy the high-speed thrills that only the track's high banks can provide. Rolling up onto the banking in NASCAR turn 3 at over 100 miles per hour is an experience no karter should miss.
Tony Ellison was a double winner, notching wins in Vintage Open F1 and Vintage Open F2, while Dennis Griffith took the win in Vintage Piston Port F1 and Stuart Keller was the victor in Vintage Twin F1.
While only 11 entries were on the grid sheets, a number of Vintage Enduro racers have committed to drawing larger numbers for next year.
One terrific surprise was the appearance of 95-year-old Capt. Jack McClure who displayed his Hydrogen Peroxide-powered "Rocket Kart". Capt. Jack was a crowd favorite at drag races nationwide in the '60s and '70s.