The 2022 Adams Event Was a Memorably Affair
By Leonard Emanuelson
Photos by Wayne Mass & Julie Watson
Adams Motorsports Park is located in the Inland Empire of Southern California, more specifically the city of Riverside. Like most of SoCal, it is a desert – massively irrigated so that it doesn't resemble a desert, but still a desert. VKA's premier west coast event, the Annual Vintage Kart Reunion is traditionally held the first part of February, and the weather is always a crapshoot. It can be a sunny 80-degrees, or like in 2019 a near rainout. This year's 17th Annual Reunion honoring Faye "Ladybug" Pierson, was cold and windy with overnight temps dipping in the high 30s. Compared to the icecap gripping the rest of the country, Adams was the place to be but the plunging afternoon temps and Santa Ana winds dampened some of the evening festivities, but the vintage karters soldiered on.
We lost several vintage karters in '21 & '22. The most notable was Faye "Ladybug" Pierson who drove her signature Bug kart here for the final time in 2020 at the age of 91. There were several photo displays of Faye and other karting legends whom we dearly miss.  A few of the others include Rick Gifford whose karting career included a national championship in every division of karting. Tom Smith, a talented vintage kart restorer/fabricator, and Jerry Imbroden, the long-time Adam's track photographer.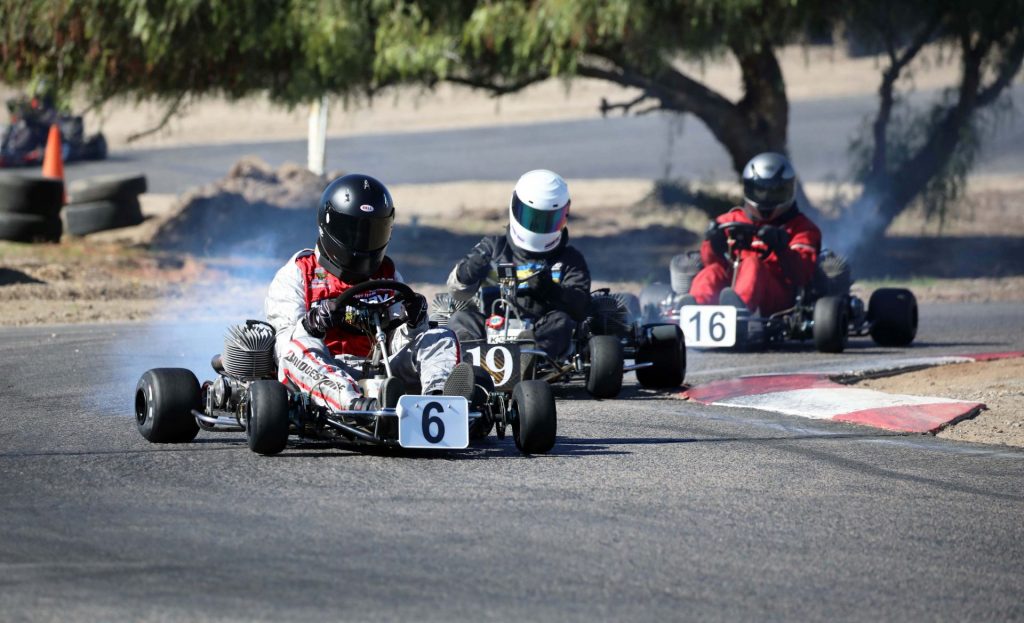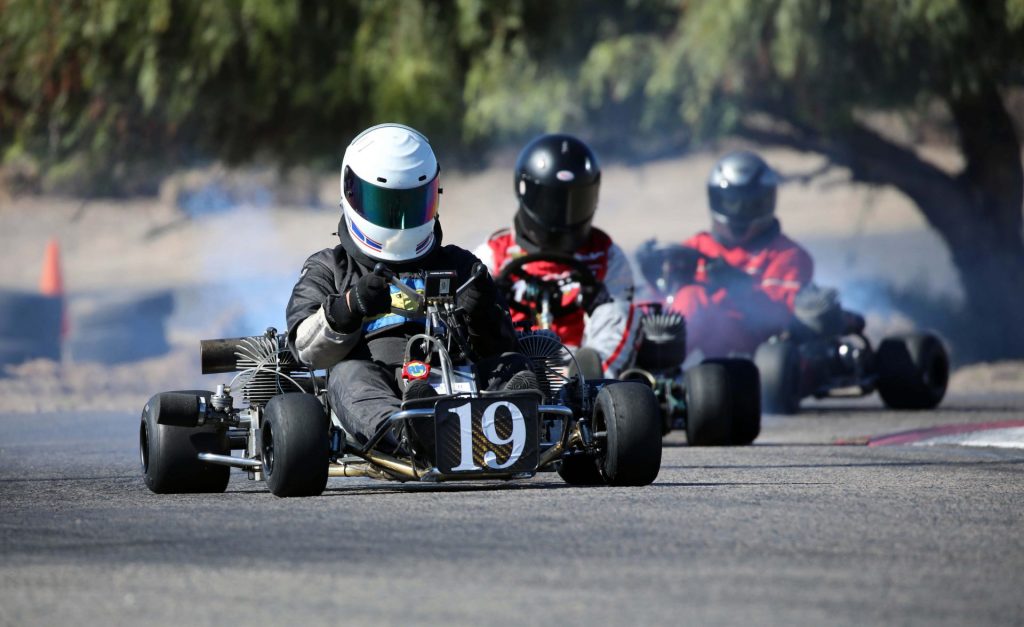 Another great friend in karting we lost this year was John Motley from Paso Robles, California. John owned Yamaha of San Luis Obispo and Race Kart Engineering. He was heavily involved in modern karting too, serving as a tech director for SKUSA for many years. His daughter Kelley Coons and son-in-law, Randy Coons brought a huge trailer of John's collection of kart parts from over the years. Several engines, pipes, karts and even a Rathman Exterminator were for sale.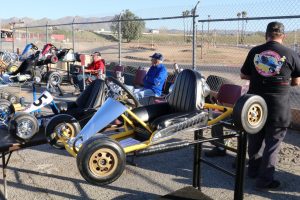 In 2021 the VKA "Reunion" was relegated to a "Fun Day" due to Covid. This year vintage karters were happy to return to a full event schedule promoted by Louie Figone and Joe Swantek and hosted by Adams Motorsports Park.  Some highlights were the Thursday lunch provided by JMax-Torque's Jim Donovan, ably assisted by Dean Kanocz and Jack Murray. The Randy Holt estate provided the excellent pizza Thursday night, and the Adam's family and VKA hosted dinner and a jazz band on Friday night.
Virtually unlimited track time was available on Thursday and Friday, and the heats went off without a hitch on Saturday. When nearly 130 karts descended on the historic track the action was hot and heavy, and we were all treated to watch a couple of karting legends dominate the action. Steve O'hara won both heats in 300 classic and 150 classic. Howard Combee got the trifecta with dual Yamaha, 100cc Open and Yamaha Stock Appearing. The always tough Tom Wilms, captured the Historic honors and and Martin Johnson won Dual Rear.  None of these guys have lost a step in 30 years!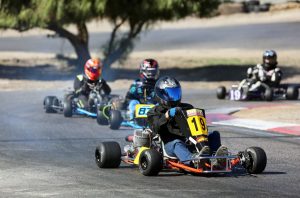 While participation was down slightly over previous years, the vintage karters that traveled long distances were way up. The Hannon Gang from Seattle just keeps growing, and was joined by other Washingtonites Jason Gibb, Mike Stryker and Stan Crocker, to name a few. Doug Sharp hauled much of his Vintage Museum Restoration from Indiana and his dual 101-powered Hartman was the talk of the pits. Alex Odenthal showed up from Idaho and ran a direct-drive Dap T-80 out of the Hannon camp. Jason Gibb's brother Chris showed up from Texas to drive his brother's second kart. Dennis Faust and his wife brought two beautiful vintage Emmicks for sale and a Yamaha single to race from the Phoenix area. But undoubtedly the long distance award goes to Frank Weir from VROOM magazine who traveled all the way from Ireland.
The Adam's Kart Show did not disappoint. While the amount of participants was noticeably lighter, the quality just keeps getting better. Doug Sharp showed some amazing karts from his Vintage Museum Restoration and won Best Modified Rear Engine for his '61 McCulloch 300. Alan Paolercio and Bug Cooper are a traveling karting "event" by themselves (usually showing up with no less than 10 of Alan's karts) — were rewarded with Best Un-Restored Rear and Sidewinder classes. The Washington state folks showed well too with Stan Crocker's '69 Bug Stinger winning Best Restored Sidewinder and the Tom Pierson "Best Bug In Show" award. Jason Gibb's '82 Proline captured the "Peoples Choice" award. Jsson has made the transition from racing dirt karts to vintage, and says he loves the karting and the people. Check the photos out – other stunning karts include Steve O'Hara's Carretta II, Rennie Goldberg's Lancer and Paul Wright's Bug Stinger Enduro.
If Adams is any indication, the '22 VKA season is going to be awesome!