By John Copeland, VKA Enduro Director
Photos by Turn 13 and John Copeland

Tucked away in eastern Ohio Amish country, Nelson Ledges Road Course has  been a favorite of sports car club racers since 1958. But since 2019 this hidden gem has been added to the AKRA Road Race Series, hosted by Dart Kart Club and Vintage Enduro Karters enjoyed it once again in 2021. Coming off the historic 942-entry triumph at Mid Ohio just a month earlier, Nelson Ledges was the perfect counterpoint; a more traditional club-type racetrack, a more laid-back atmosphere, and less pressure on the organizers with closer to 300 entries.  Mind you, 300 entries would mark a successful road race event at any venue, and it was a good fit for the 2 mile, 7 turn Nelson Ledges.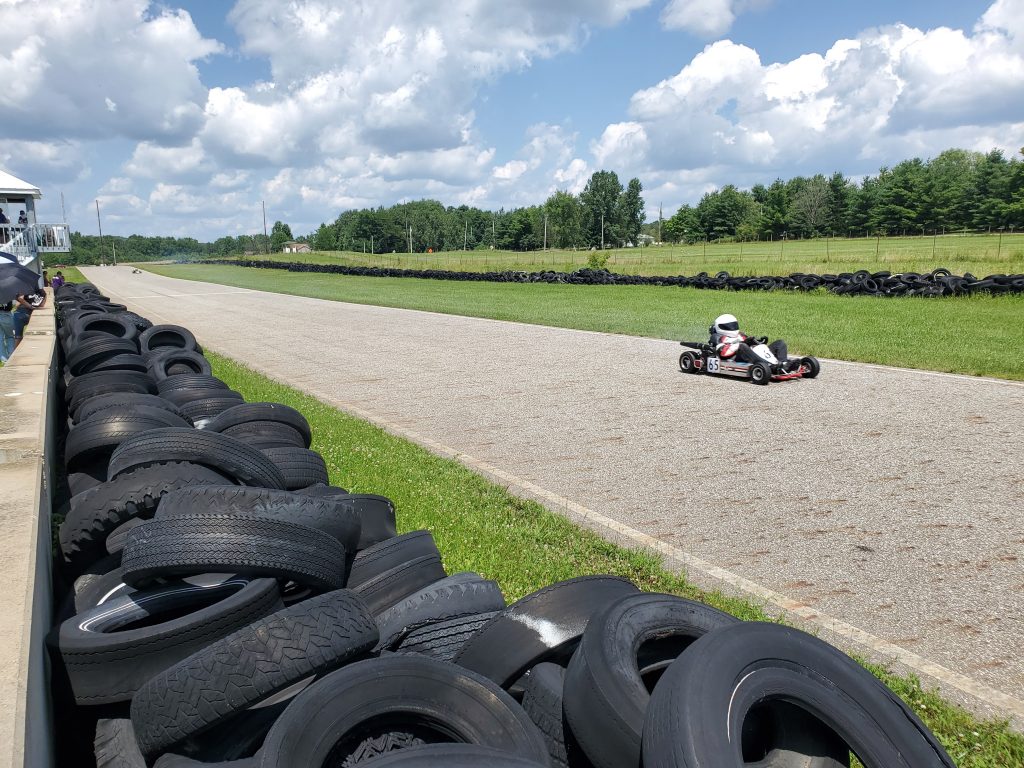 The track layout is all about speed, with long, sweeping, high-speed turns taken flat-out and only two (or one!) braking points. Many of the participants, including yours truly, thought it might be the most physically demanding track they had raced on. While most of the Midwest sweltered in a mid-summer heat wave, the tempering effects of breezes off Lake Erie made for more pleasant temperatures. But it also brought some rain off and on Saturday. The folks from Dart kart did their usual stellar job and managed to get all the Saturday races in by combining and shortening them. Sunday, predicted to be the worst weather of the weekend, turned out to be the best, with clear skies and comfortable temps.
Vintage Piston Port Saturday was part of the 10-class combined race that was first off the grid on Saturday. Eight Vintage Piston Ports were entered and they spread out pretty quickly with Ben Eberhart in the lead, followed by Arthur McKinney and John Copeland. With dozens of karts of varying speeds on the track; TAGs and L0206's, sit-ups and laydowns, there was never a shortage of people to race with. At the end of the 20 minute Vintage event the winner was Eberhart, McKinney, and Copeland , followed by Fred Stoll and Greg Hartley.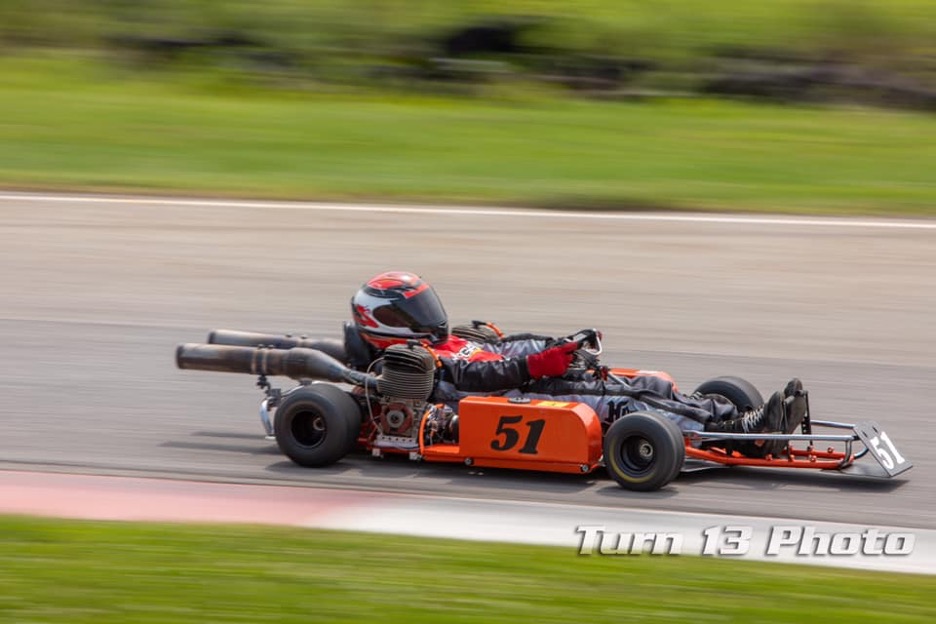 Vintage Open Saturday was a seven-kart field and was another multi-class combined race. Fred Stoll took out whatever frustration he had from the Piston Port race by blistering the field by more than 2 ½ seconds per lap. Ben Eberhart climbed out of his winning Piston Port machine just long enough to pour in some fuel and took it right back to the grid to trail Stoll in 2nd.  Arthur McKinney also tried back-to-back races, but retired after only 3 laps. That left Ben Eberhart's father Duane in 3rd place, followed by John Konkle and Greg Hartley.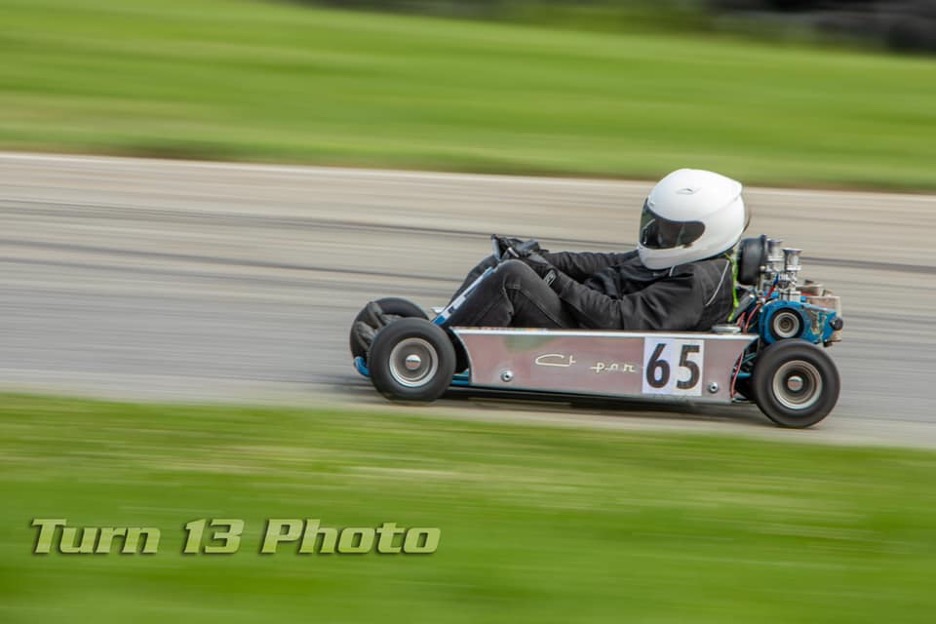 The weather forecast for Sunday was for rain all day, but it turned out to be clear skies and warmer; a beautiful day for racing. Vintage Piston Port Sunday gridded the same 8 contestants as Saturday's race, with largely the same results. Ben Eberhart was even faster than the day before and lapped all but 2nd place. Arthur McKinney was in the runner-up spot once again, with John Copeland rounding out the top three. Chuck Brewer edged Fred Stoll for 4th, leaving Greg Hartley 6th. Compared to the Saturday race, the track seems almost deserted with only 19 karts in the combined 8 classes taking the green, but the clearer track made for faster laps.
The 5th race on Sunday was another repeat of Saturday's Vintage Open event, with 6 entries. Once again Fred Stoll was the class of the field, winning by 40 seconds. Ben Eberhart repeated in the runner-up spot, again running the Piston Port Yamaha he had won with just an hour earlier. Listening from the pit wall as Eberhart's clutch slowly self-destructed was painful, but it hung on until the checker. Phil Reuter, back in a laydown kart for the first time in several years, adapted quickly and claimed 3rd ahead of John Konkle and Greg Hartley.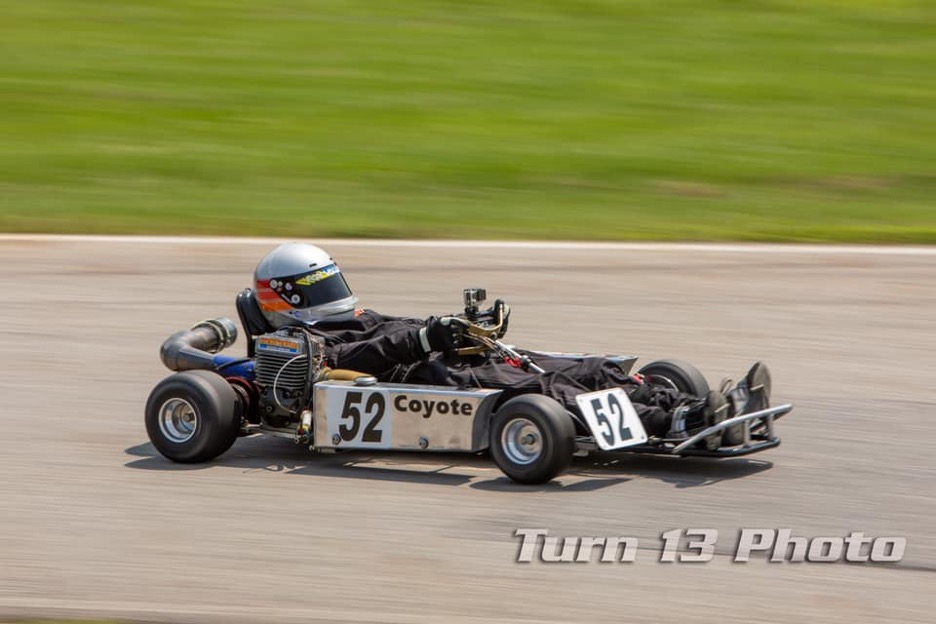 The 5th race also featured the only Vintage Twin as Mike Schlager hustled his Dart Mean Machine twin B-Bomb ride to everyone's delight. Schlager's laps, in the 1:22's, are a tribute to his devotion to showcasing truly period-correct Vintage machine.
And so the AKRA/Dart Kart wrapped up another outstanding weekend of road racing. The AKRA Road Race circus moves on to Summit Point Raceway in August, and then the much anticipated mega-event at Pittsburgh International Race Complex, featuring the first-ever Vintage Enduro Kart Celebration in late September. Road Race karting is enjoying a much-needed resurgence as karters rediscover the unique sensation the laydown, high-speed racing brings.