Dart Kart Club Brings Biggest Enduro Event in Decades to Mid Ohio
By VKA Enduro Director John Copeland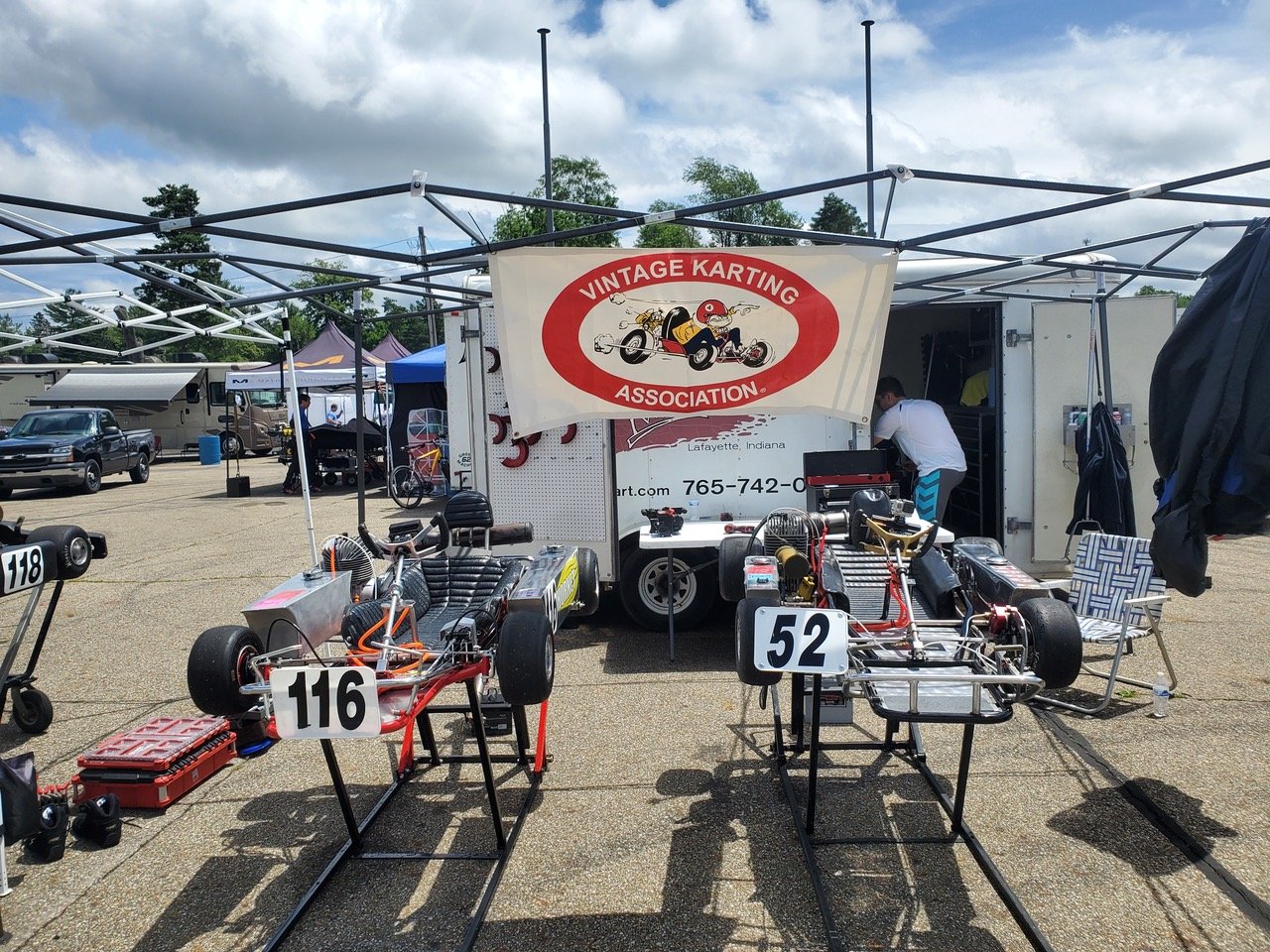 "Road racing's dead" they say. "Nobody goes enduro racing anymore" they say. Well, tell that to the hundreds of Enduro Racing enthusiasts that flocked to iconic Mid-Ohio Sports Car course in mid June for the largest gathering of big-track karters in decades. There were, in total, 942 entries. That's right, 942. These are numbers that haven't been seen in more than 2 decades at any track; not even Daytona. The question on everyone's lips was "Why?" "Why here?"  "Why now?" It's likely a combination of factors: pent-up demand, creative promotion, collaboration between sanctioning bodies AKRA, WKA, KART, and CES. In the vernacular of the 60's, this wasn't just an event, it was a HAPPENING. Racers came from California, from Massachusetts, from Georgia, and from Oregon.
And while Vintage Karters made up only a small part of the enormous entry list, it was a wonderful opportunity to share our passion with many "modern" karters who had never seen a Vintage Enduro kart. And it was a chance to show that you don't need fancy bodywork to be fast. In fact, in several races the Vintage Karts either led or were the outright winners.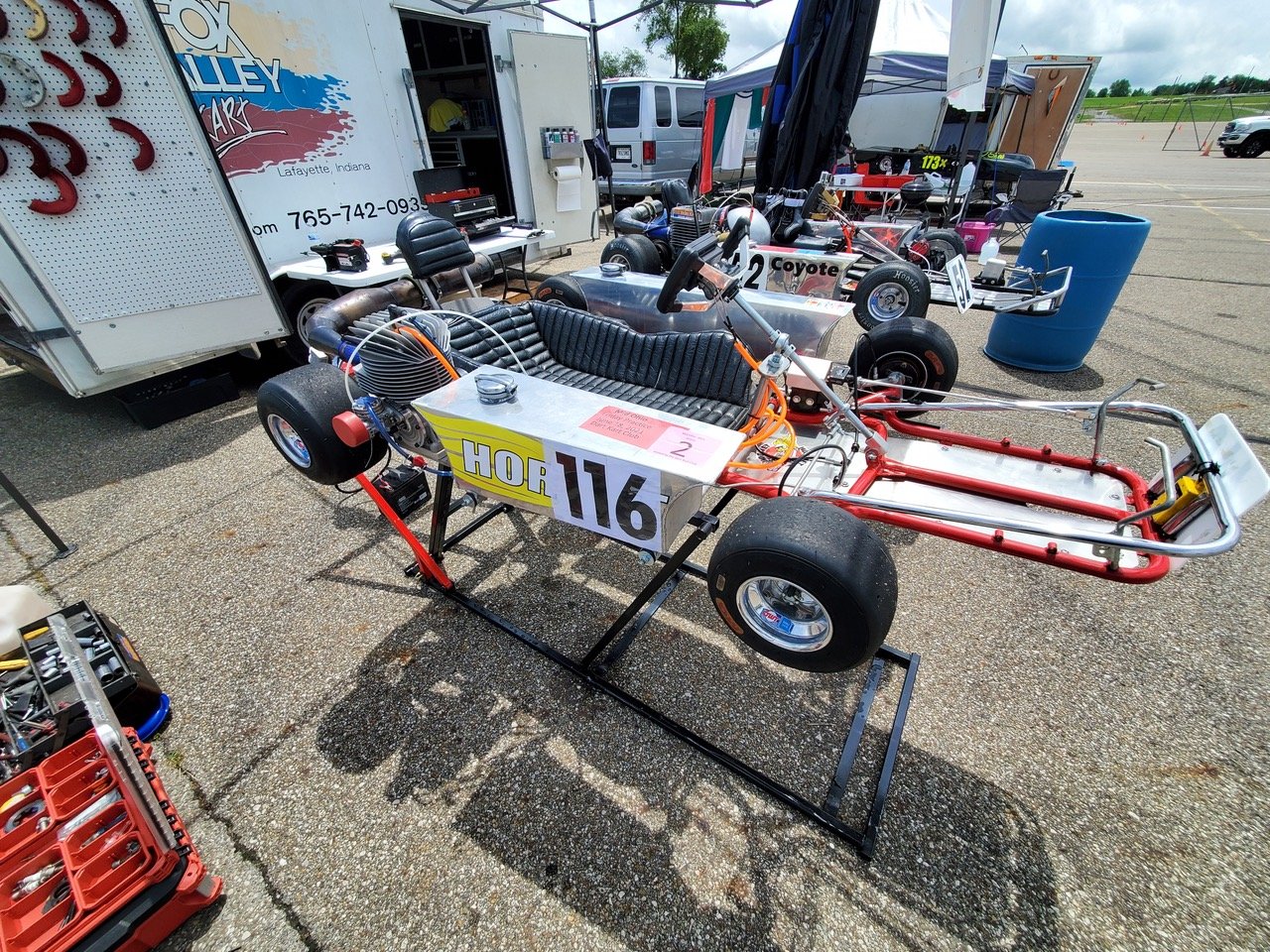 Rain cancelled most of the practice time on Friday, but it stopped and the track dried in time for each practice group to get in a full session before the end of the day. Classes (and there were a lot of them) were grouped into 7 race groups each day, but only 4 practice groups, so there were A LOT of karts on the track at any given time. Rain returned Saturday morning but, by afternoon, the track was drying and racing began. The compressed schedule meant that races were shortened to fit the remaining time on Saturday. But Sunday was clear and comfortable all day and the races ran their full scheduled distances.
A quick shout-out to the folks from Dart Kart Club and the dozens of ordinary karters and their families who volunteered to get this event done. They did an incredible job. An event like this is powered by PEOPLE. From getting the crowd into the paddock (and the campgrounds, and the roads into the paddock), to registration, to the grid, to the scales, Dart Kart, one of the oldest Road Racing clubs in karting, outdid themselves. Well Done, one and all.
The first Vintage Class to grid Saturday was Vintage Piston Port, with 10 entries. With a total of 8 classes on the track at once, there was always someone to race with. Perennial front-runner Ben Eberhart blasted into the lead at the start and never looked back. Eberhart ended up turning the fastest lap of the race, a few tenths quicker than Makena Rice in a TaG kart. Other than Rice, no one else was within 3 seconds a lap of Eberhart. Woodbridge Kart Club stalwart Art McKinney was 2nd in Vintage Piston Port, followed by William Anderson. Unfortunately a red-flag incident involving vintage racer Herb Dickel, Jr. ended the race a bit early. Dickel suffered minor injuries, but his kart took the brunt of the damage.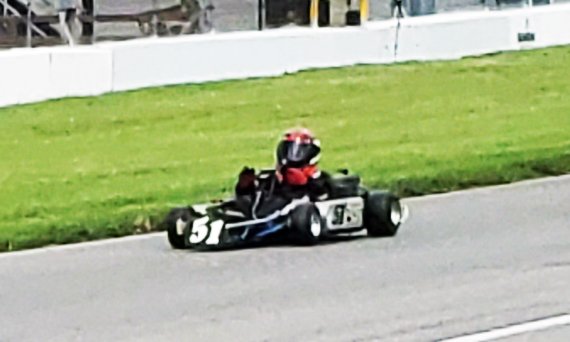 Eberhart was back for the much-anticipated "Battle of the Twins" B-Stock race. He was 1 of only 3 Vintage Twins sharing the track with 15 of the best full-bodied B-Stockers in the country. Imagine the surprise along the pit wall when, at the end of the first lap, it was Eberhart, in his unbodied, twin LMR Vintage kart that led the field of modern B-Stocks. Eberhart battled with B-Stock ace Tom O'Reilly until contact with a slower kart put Eberhart out. Eberhart's departure put Mike Schlager's twin-B-Bomb Dart Mean machine into the lead. Schlager's kart, with it's overhead pipes and Goodyear Blue Streak tires (where does he get those??) always puts on a great show. Unfortunately, a lap after Eberhart's departure, one of Schlager's engines called it quits, handing the win to Tom Tretow.
While the twins were in the spotlight in race 5, Vintage Open was also racing. Fred Stoll was the class of the Vintage field, lapping in the 1:47's. In a field of 59 karts that included B-Stock, 100cc Controlled, Open Sprint, TaG Enduro, and Vintage Twin, Stoll finished 14th OVERALL. Arthur McKinney ran 2nd early, but dropped out, handing the position to Terry Armstrong, a lap down at the finish. Tony Ellison claimed 3rd.
Sunday's Vintage Piston Port saw the same cast of characters as Saturday's race, and with the same results. Eberhart led from flag to flag and was, incredibly, almost a second faster than he was Saturday. Arthur McKinney was also quicker than the day before and beat William Anderson by 2.7 seconds for the runner-up spot. Anderson ran toe-to-toe with Fred Stoll, nipping him by less than 3 tenths of a second for 3rd.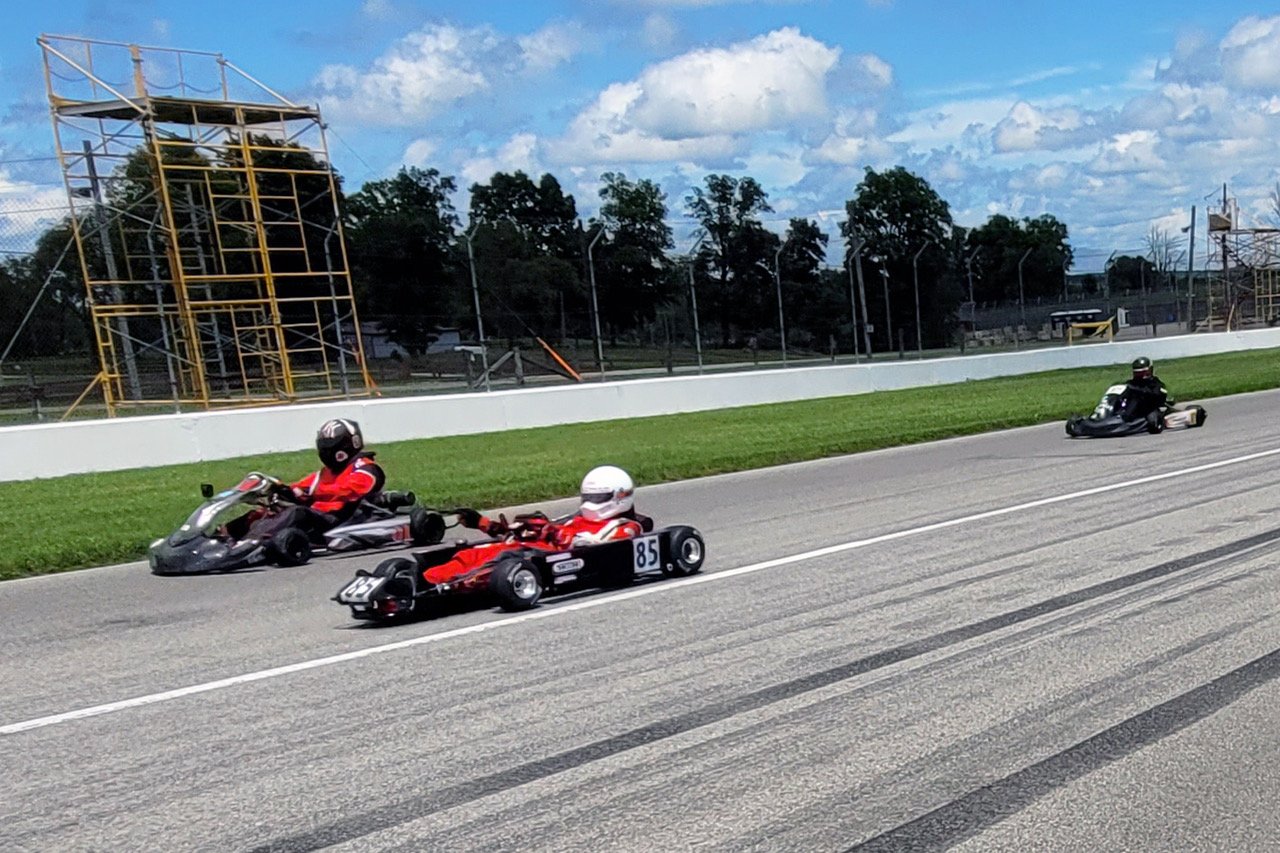 The final Vintage race of the weekend was Sunday's Vintage Open event.  This one was a battle of attrition with Ben Eberhart running off into the distance before mechanical woes sidelined him at about half distance. By then Don Axe and John Konkle had already retired and Terry Armstrong took the lead. Armstrong's day ended 5 laps later but, as the last man standing, he took the win, followed by Eberhart and Axe.
In total there were 36 Vintage Enduro entries. The weekend was a reminder of how enduro racing used to be, and how it can be again, if everyone just works together to help grow this important part of the karting scene. There are several more Road Race events in the coming months that will welcome Vintage Enduro racers. And the promoters at Pittsburgh Motorsports Complex are already talking about breaking 1000 entries at their event in September. So dust off those Vintage lay-downs and come join us.