WHITELAND, Ind. (race report by John Copeland, photos by Romero Llamas) — More than 100 VKA members, plus their families and friends, gathered at Whiteland Raceway Park to celebrate the 2023 Fall Classic at the Historic facility. Reported to be the oldest continuously operating kart track in America, Whiteland Raceway Park has just undergone a huge expansion and renovation, making on one of the premier karting facilities in the nation. Acres of paved pit area, new buildings (including a new building with additional restrooms and showers), covered grid area, and much, much more have made Whiteland a very inviting event on the Vintage Karting calendar.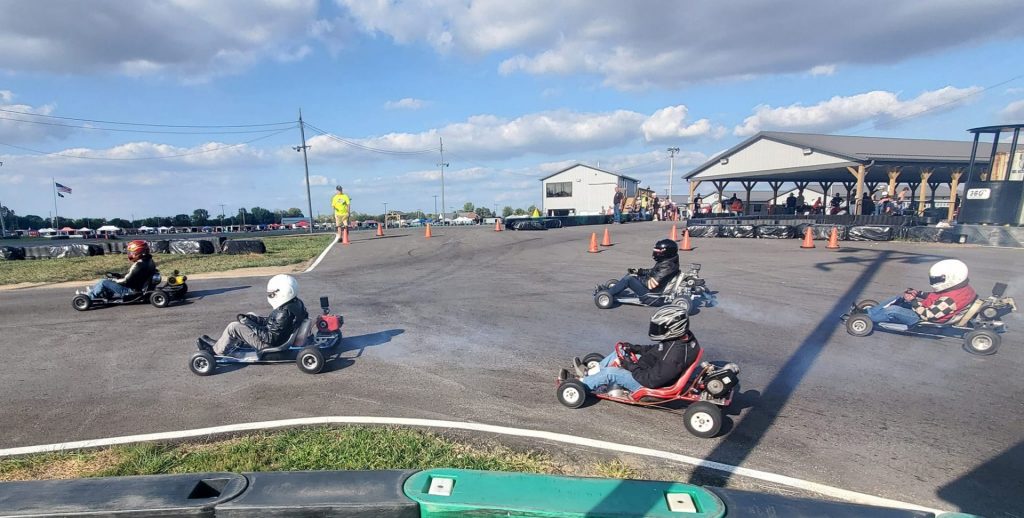 And then there's the racetrack; with additional racing surface almost doubling the length of the track, with multiple layouts with wide, multiple passing opportunities. The original track has been resurfaced as well, making for great racing.
In total the event saw 161 entries, a new record for Whiteland and another example of the VKA's continuing growth. Yamaha Piston Port, Yamaha Limited, and Yamaha Masters all had between 11 and 15 entries and were split into light and heavy classes. The 150cc Sidewinder class attracted 10 entries and a Local Option class for Reed Open drew 8 entries. Vintage karters came from as far away as Florida, Colorado, and Oregon to be part of the event.
A big attraction at Whiteland this year was for the "Fox Kart Fiesta" featuring these iconic Vintage karts, made in Janesville, Wisconsin, in the late 50's and early 60's. Guest of Honor was Dick Teal, one of the original engineers at Fox Kart, who brought his entire family from around the country, along with his impressive collection of restored Fox Karts. A special class in the Kart Show and a special class racing on-track for Fox Karts only attracted 20 of these historic machines, plus a few more that were not raced. The winner of the Fox class on track, Scott Kerestes from Covington, Indiana, was presented with the "Dick Teal Cup" trophy for his efforts, with Teal presenting the winner's trophy.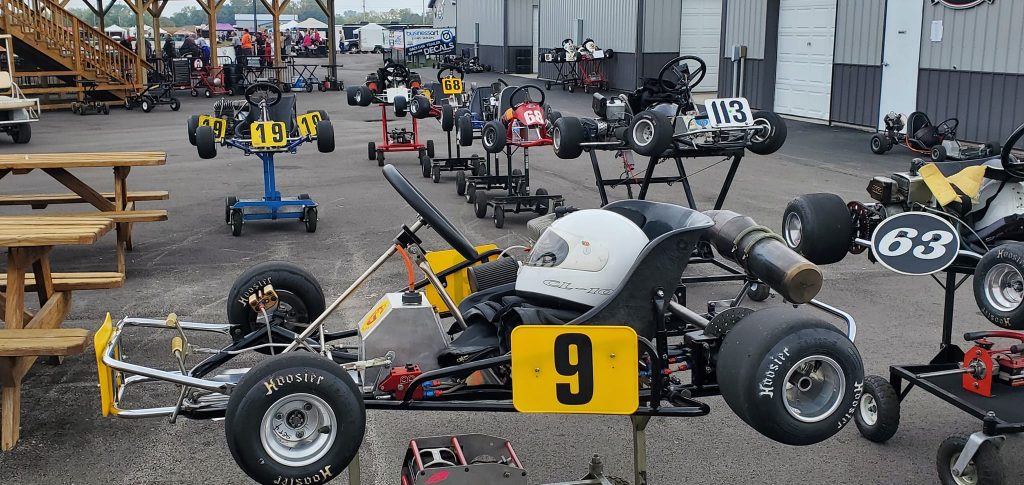 Again this year Whiteland featured a Silent Auction starting on Thursday and continuing through Friday. Generous donors provided items for the attendees to bid on, including complete brake kits from MCP, an HPV engine donated by HUB distributing, and many other great items. Thank you to Haddock Ltd, Craig Keller, Kelly West, MCP, Terry Ives, Comet Kart Sales, Gordon Juhasz,Bill McCornack, Speed Parts, Rick Chapman, Target Distributing, and Fox Valley Kart for their generous support.
The weather in central Indiana in September is cool in the morning, but almost always clear and comfortable in the afternoons and it was again this year. After a busy day of practice on Thursday, the attendees were treated to a delicious dinner, catered by Fazolli's, courtesy of Vintage Museum Restoration. Friday began with a driver's meeting, followed by practice and heats 1 & 2. Sarah Fisher and Andy O'Gara, the owners of Whiteland, furnished delicious pizza for everyone for lunch. When the day's races were over the participants gathered for the kart show, the drawing for the 50/50 raffle, and the announcement of the winning bidders in the Silent Auction.
Here are the kart Show winners —
Historic Unrestored – 1964 Rupp Grand Prix – Mc 91 – Joe Kiene
Historic Restored – 1958 Fox Go-Boy – WB 700 – John Copeland
Historic Modified 1963 Rupp Brand X – Mc 91 – Joe Kiene
Rear Unrestored – 1965 Fox – Mc 91 – Shawn Moore
Rear Restored – 1964 Fox – Mc 70 – Jesse James
Rear Modified – 1964 Fox – Mc 91 – Rolf Hill
Sidewinder Unrestored – 1974 Margay Concept Dual – Komet K299s – David Fisher
Sidewinder Restored – 1980 CKS – Mc 91 – Shawn Moore
Sidewinder Modified – 1978 Emmick Arrow – Mc 92 – Doug Sharp
Past Champ Historic – 1962 Fox Go-Boy – WB 820 – Dick Teal
Past Champ Rear – 1961 Fox Mak-Kart – Dick Teal
Enduro – 1969 Margay New Breed Dual – MC 101s – Larry Bogan
Mini Bike – 1968 Lil Indian – B&S – Robert Cain
Fox Kart – 1958 Fox Go-Boy – WB 700 – John Copeland
Peoples Choice – 1969 Margay New Breed Dual – MC 101s – Larry Bogan
Saturday was another beautiful fall day and, after practice, everyone reported to the grid for the 3rd and final heats. Once the racing was finished it was time for trophies and final goodbyes.
Here are the final class winners —
Historic – Billy Dalton
Junior – Lanie Thigpen
Sportsman Rear – Rusty Ferguson
6.1 Rear – Dustin Merritt
8.2 Rear – Chris Taylor
Dual Rear – Jerry Nagel
100cc Sidewinder – Walter McDade
150cc Sidewinder – Lorenzo DiBacco
Dual Sidewinder – Paul Field
Sportsman Sidewinder – Mike Giessen
Yamaha Piston Port Light – Dustin Merritt
Yamaha Piston Port Heavy – Dave Doogan
Yamaha Limited Light – Amy Scoggins
Yamaha Limited Heavy – Mark Green
Yamaha Masters Light – David Fisher
Yamaha Masters Heavy – Denny Scott
Dual Yamaha – Gene Lang
West Bend Sidewinder – Tom Day
Classic 100cc Piston Port – David Drews
Classic 100cc Reed/Rotary – Matt Krechel
Reed Open – Don Renton
Fox Kart – Scott Kerestes
80cc Mac Stock – Kevin Rice
80cc Mac Modified – Roger Santee
Congratulations to all the winners!
And so the Midwest season of VKA racing wraps up and everybody is looking forward to 2024. In only 4 years Whiteland has cemented its place on the Vintage calendar as a "must attend" event. More improvements are planned and the owners are excited to welcome the VKA back next fall. A big thank you to all the volunteers and Whiteland staff who helped make this just a great event. And, of course, a big thank you to all of the VKA members and their friends an families. Mark your calendars, we'll see you next year!