The Midstate VKA event was held Thursday 4/27/23 Thru Saturday 4/29. Thursday was open practice and was a great day with 66 entries at the track.
Friday we had a total of 72 entries and ran 2 heat races with a outstanding group of VKA drivers. The weather was in the high 60's to low 70's all three days and was perfect!
Jon Clem (Midstate Kart Club president) and his staff did an outstanding job as usual at this outstanding facility and track. VKA is very fortunate to have this great facility on its schedule every year. I also want to thank Don Roll for all of his hard work doing the photos for this event. Don does an outstanding job for us!
We held the kart show shortly after the 2nd heat race with a great group of vintage karts.
Friday evening, we had a great pizza dinner. I also want to thank Jon Clem for doing all the leg work for the dinner, the Curry family and the other folks that helped serve the dinner.
The third heat was ran Saturday morning with some fantastic vintage karting. We did the trophy presentation and completed the event around 1PM. Jon Clem handmade all of the event trophies, we greatly appreciate Jon and all of the Midstate crew!
Jon Clem also has tremendous giveaways of tools, etc., that is give away prizes for each entry at the awards. This is an outstanding VKA event, and I hope more of you can make it next year!
Ken Wooldridge
Mid-State VKA Promoter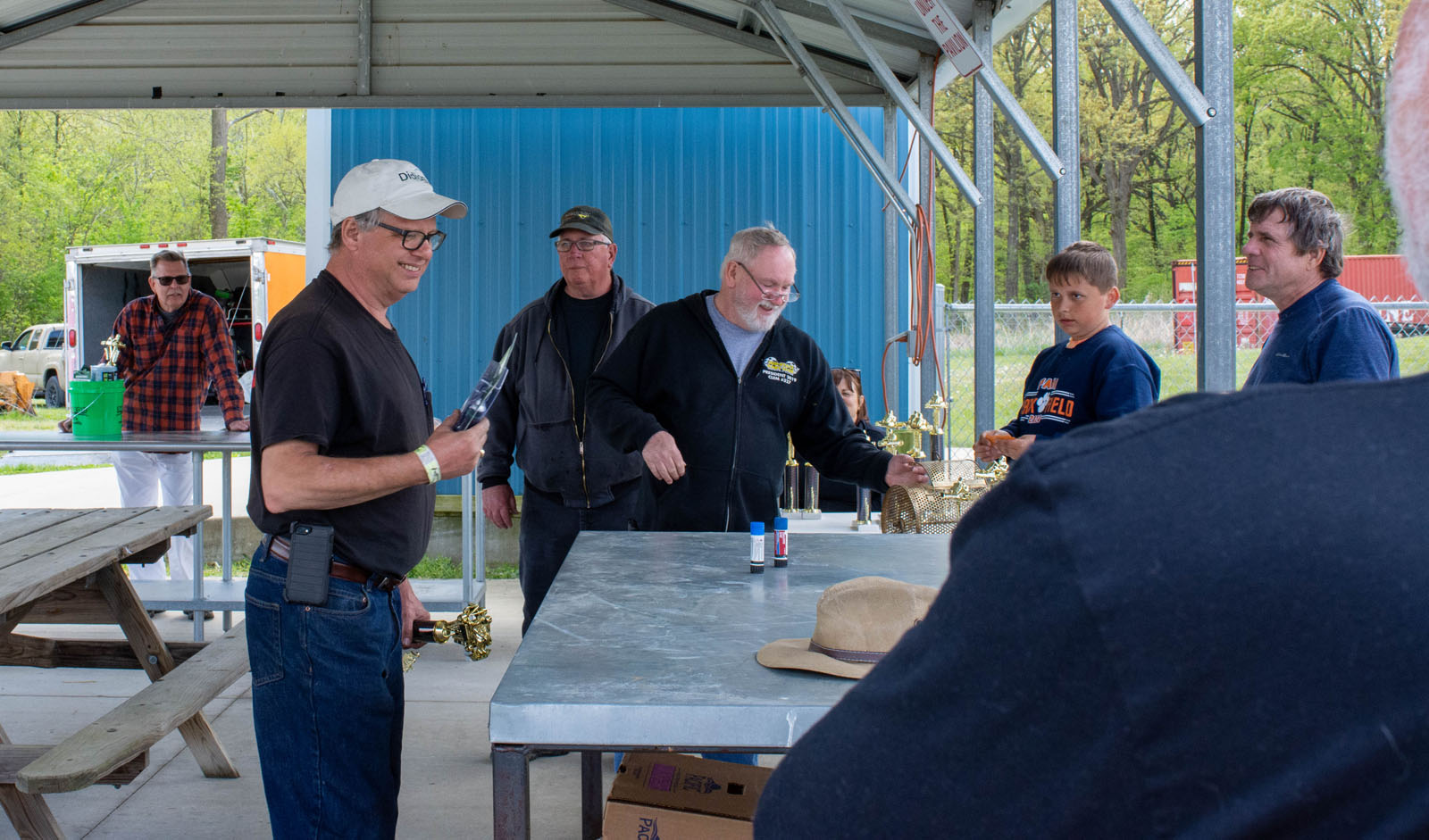 Midstate VKA event, Springfield, IL 4/27 thru 4/29/2023 DEMONSTRATION EVENT RESULTS
by Ken Wooldridge
| | | | |
| --- | --- | --- | --- |
| Class | 1st | 2nd | 3rd |
| 1. Historic | Todd Maberry | | |
| 2. Junior Rear/SW | Miles Frost | | |
| 3. Sportsman Rear | Rick Magnason | Jerry Nagel | Nick Kammueller |
| 4. Mac 49 B | John Wall | Vinny Rotole | Steve Mox |
| 5. Rear 6.1 | Tom Day | Dale Renton | Gary Young |
| 6. Rear 8.2 | | | |
| 7 Dual Rear | Jerry Nagel | Marc Nagel | Vinny Rotole |
| 8 100CC Sidewinder | David Fisher | Michael Day | Aaron Kruger |
| 9 150CC Sidewinder | Hal Orndorff | Marc Nagel | |
| 11 C Open Dual Sidewinder | Jerry Nagel | | |
| 12 Sportsman Sidewinder | Don Renton | Jesse James | Dean Didion |
| 13 Yamaha Piston Port Light | Matt Krechel | Amy Scoggins | |
| 13 Yamaha Piston Port Heavy | Dave Doogan | Henry Povelones | David Drewes |
| 14 Yamaha Limited | Amy Scoggins | Matt Krechel | Duke Zink |
| 16 Yamaha Masters Light | Guy Roberts | Marty Westen | Kirk Gustafson |
| 16 Yamaha Masters Heavy | Denny Scott | Lorenzo Dibacco | Henry Povelones |
| 17A Dual Yamaha Stock Appearing | Cameron Stock | | |
| 17B Dual Yamaha Limited | Gene Lang | Rodney Fish | Daniel Birge |
| 16.Yamaha Masters | Dave Drewes | Marty Westen | Guy Roberts |
| 18 West Bend Sidewinder | John Wall | Tom Day | Ron Brookman |
| 19A Classic 100CC | David Drewes | Reed Fair | Dale Fisher |
| 19B Classic 100CC | Michael Day | Jim Rowe | Darin Birge |
| 20 Four Stroke Stock | Felicity Kruger | Aaron Kruger | |
Midstate VKA 2023 Kart Show Results
Judges: Roll Brothers
HISTORIC
Unrestored
1963 Sears – Ron Brookman
Modified


Restored
1961 McCullough – Todd Maberry
REAR
Unrestored


Restored


Modified


Past Champion


SIDEWINDER
Unrestored
1986 Swiss Hutless – Gene Lang
Restored
1975 Invader – Gene Lang
Modified
1988 White – Duke Zink
Past Champion


PEOPLES' CHOICE
Best in Show
1986 Swiss Hutless – Gene Lang